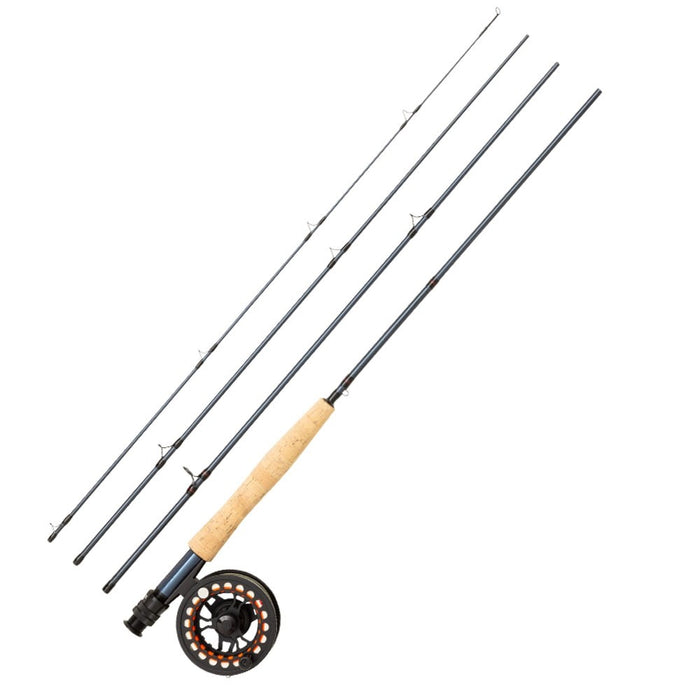 GREYS K4ST X FLY FISHING COMBO KIT - 10ft # 3 Euro Nymph
With the K4ST series, Greys provides a cost-effective entry into the fascinating world of fly fishing. These well thought-out sets consist of rod, reel and a matching fly line and are adapted to specific target fish. So you can concentrate 100% on fishing!

K4ST X fly rods have a fast action with a nice recovery speed and are just as suitable for beginners as for more experienced casters. Both precise waterborn casts and long overhead casts succeed with ease thanks to the balanced blank made of modern carbon fiber. All K4ST X rods are equipped with a lightweight aluminum reel with adjustable brake. Thanks to the modern large arbor design, you can pick up large amounts of line with just a few turns and don't have to worry about a possible memory effect of the line. The reel fits securely in a durable anodized aluminum reel seat with woven carbon spacer. All K4ST sets come in a combined rod and reel travel case for safe transport to the fishing water.

The K4ST X Euronymph from Greys is designed for nymph fishing for Trout and Grayling on the stream and river. With a universal length of 10ft. (3,05m) this rod is suitable for different variations of modern tight line nymphing. The #3 line class is perfect for presenting nymphs of different sizes, offering plenty of subtlety in presentation and plenty of fun in the fight. In addition, enough power reserves for larger Brown Trout or a nice Barbel! In combination with the matching WF line, you can also accurately bring dry flies into the hot zone - should the nymph not be your first choice. Thanks to the two-color coating you always hit the ideal point for shooting.

All K4ST sets from Greys convince with a very attractive price-performance ratio and components that are assembled with specific situations on the fishing water in mind. A perfect solution for price-conscious fly fishers and beginners who want to set out on adventures in the world of fly fishing. Just add a fly and you're ready to go!


Details:
Combo consisting of rod, reel, line and leader
4-piece rod with fast action
Stripping guides with insert and double-leg snake rings
Anodized aluminum screw reel seat with woven carbon spacer
High quality lightweight cork handle
Supplied in combined rod and reel travel case
Large arbor aluminum fly reel with brake
Equipped with two-tone WF fly line (floating) and leader
Length: 8ft. (2,44 m)
Line class: #4
 Please note these outfits do not come with a Greys warranty and spare parts are not available.